Sat, 30 Jul 2005
... for something similar. Being bound to work, university and other stuff can really drive you crazy.
Good luck, Meike, take your time to think, enjoy your trip.
postet at 19:23 into [Debian] permanent link
Wed, 27 Jul 2005
I'm at work. Again. After more than one month abstinence. I spend nearly one week in Karlsruhe at LinuxTag, got back home to wash my closes and nearly immediately packed them to travel to HEL. Spend at DebConf nearly three weeks, got back for less than 36 hours just to get back on the road again for ApacheCon for an other week.
I have been among geeks all the time, so it's some kind of clash with reality to finally get home and to work, without being surrounded by geeks.
Ouch!
postet at 16:57 into [Debian] permanent link
Wed, 20 Jul 2005
... the world is nearly perfect. If only an other person would feel the same :(
postet at 22:30 into [Debian] permanent link
Now you are on planet, too. Welcome, alphascorpii.
Now you are getting famous, too :)
postet at 20:16 into [Debian] permanent link
Oh god, what a surprise! I arrived this morning at our preliminary booth at ApacheCon, to find, that alphascorpii left a nice surprise for us there, when she picked our exhibitor passes up yesterday: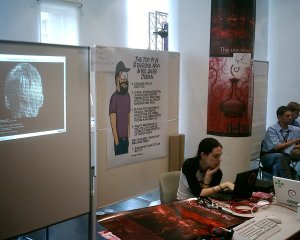 Yes, there is a Mike poster to be seen in the background. No, it is not the one, that got stolen with all the other hardware all the other hardware stuff from last CeBIT. No, alphascorpii made a brand new one, just from the bad quality jpg on Joeys infodrom... Thanks very much!
Uhm... after reading what she was getting through to bring it here, I love her more, than I did ;)
postet at 12:43 into [Debian/events/ApacheCon-2005] permanent link