Thu, 10 Mar 2005
Our booth is ready, the net connection is set up and running, I got a couple of hours sleep and the first invitations. Debian is ready for CeBIT.
I took some first pictures. Sorry about the quality, my camera is not the best: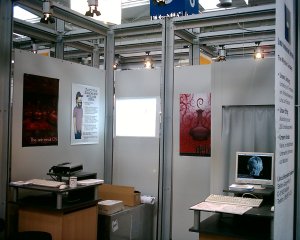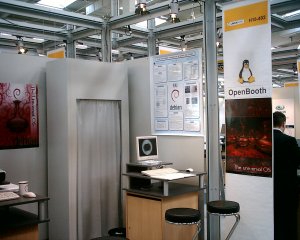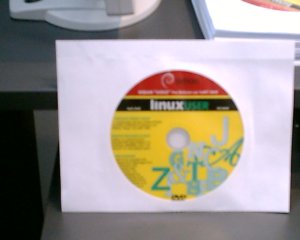 If I take more pictures, I will upload them to my gallery as usual.
BTW: I hate it, to live in a banana republic.
postet at 13:22 into [Debian/events/cebit-2005] permanent link
Wed, 09 Mar 2005
This is the first year, where Debian will have its very own booth. I arrived a couple of hours ago, and builded our booth. Looks nice, and Internet connection is (as you can see) available, too. And it's fast - especially compared to the "broadband" connection of the Hotel in Peking ;)
Beside a small misunderstanding with Byteaction and Fujitsu-Siemens, who offered us some hardware, it everything went very smooth.
I'll take some pictures tomorrow and keep you up to date.
postet at 21:30 into [Debian/events/cebit-2005] permanent link
Sun, 06 Mar 2005
After a 15 hour trip (9 via plane, 6 via train), I finally made it to Chemnitz, Germany, where an other event is held. Well, I just popped in, when nearly the entire buffet of the social event was cleaned up. As said: I have a good timing ;)
At least I will have nearly two full days to recover, when I get home on Monday, before I need to depart again to Hanover for CeBIT.
Thanks again for the invitation to Beijing, it was really nice to meet all you guys there.
postet at 00:15 into [Debian/events/admc-2005] permanent link
Tue, 01 Mar 2005
...the other food they served us, but at least it smiles back and doesn't just stare at you: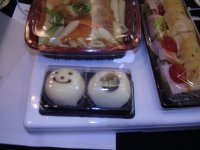 Personal node: Traveling 9 hours to the land of the funny food, to get your lunch from Star Bucks????
postet at 06:43 into [Debian/events/admc-2005] permanent link
I finished my talk 30 Minutes ago and got three mails thanking for my "clearly explaination in [my] speech" or "the wonderful and interesting talk on what we can do to help Debian".
To do:
collect feedback
merge Information about QA and CDDs which where covered by own talks and therefore aren't covered in my talk
transfer the half written TeX-Paper to sgml or xml, upload it to Debian Documentation project
Get in contact with the guy who did a similar talk recently an CONSOL in Mexico, see what he found to be important.
revise and upload my talk
Any other hints?
postet at 04:28 into [Debian/events/admc-2005] permanent link