You are here:
Wed, 29 Jun 2005
Thanks for the talk.
postet at 09:46 into [Debian] permanent link
Tue, 28 Jun 2005
Yes! Pray for more accounts!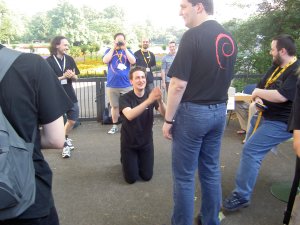 Thanks Uli, for taking those pictures :)
postet at 14:00 into [Debian/events/LinuxTag-2005] permanent link
I know kicking pillars doesn't help - that's why I kicked several boxes and a metal container, too ;)
Beside that, I can blame Joey only for not organizing showers in the exhibition hall for us.
By the way: Does anyone has some good tips how to reduce frustration? Normally I either kick stuff around or go jogging. I'm not allowed the do the last and I better not do the first. I would like to arrive in Hel with at least one workable foot :)
postet at 00:17 into [Debian] permanent link
Mon, 27 Jun 2005
This year we evaluated all talks during Debian-Day at LinuxTag. I just finished to summarize it, and send it to the -events-eu list. If you attended a talk, and would like to add a comment feel free to join the discussion.
The number of participants for each talk were estimated by Wolfgang Borgert, who volunteered to moderate the whole Debian-Day. Thanks.
All in all I'd like to say, we did a good job, with interesting talks and good speakers, although we had small problems when some speakers needed to cancel their talks - special thanks to Enrico and Florian for jumping in and taking over their talks so shortly.
postet at 21:50 into [Debian/events/LinuxTag-2005] permanent link
Did you know, that you can kick pillars and other hard things several times with your foot (e.g. because you are enraged and need to let off steam) on Saturday, helping to build down an exhibition booth, walking around several Kilometer, travelling home, sleep a bit, stand up on Sunday, do some 30 Kilometer or so jogging, not noticing, that you have sprain toe until Monday, when someone steps on your foot and it hurts you more, than it should more than 36 hours after you kicked the pillar?
Yeah, that's true. And if the Subway wasn't filled that much, this guy wouldn't have stepped on my toe, and I might still running around without knowing it ;)
postet at 19:16 into [Debian/events/LinuxTag-2005] permanent link