You are here:
Wed, 05 Jan 2005
Being new to blogging, I'm still wondering, what's that thing about memes, and out of curiosity I tried planets last meme (still thinking, that I won't blog about it).
I got so surprised by the results, that I can't resist to blog them. Here they are:
Musical russian roulette
There is a nice, new meme, the musical russian roulette, others on planet Debian have been playing: fire up your music player, set it to shuffle, and note the first ten songs it plays for you.
Aerosmith - Just Push Play
Aqua - Barbie Girl (Dutch Version)
Billy Idol - Hot in the City
Simon & Garfunkel - Sound Of Silence
Classic Disney Volume II - The Bare Necessities
Loona - Bailando
Queen - No One but you
Pur - Abenteuerland
U2 - Where the Streets Have no Name
Monty Python sings - knights of the round table
I'm surprised! Neither a song from The Beach Boys, nor The Blues Brothers. And WHY do I have the dutch version of Aquas Barbie Girl? I DON'T like Aqua, and I don't understand dutch!
Oh, now that I see a song from my Classic Disney Volume II CD: I still have Volume I as cassette - but I never owned a cassette player (don't ask me, why I bought a music cassette without having a cassette player. It's a looooooooong story.) If anyone has the possibility to create oggs of it, please send me a mail!
Consulate of the USA in Frankfurt
Erich blogged about the fun he had during his visit of the consulate of USA in my home town Frankfurt. Perhaps you feel better, if I tell you, that it isn't fun to have them between our university campi (or is the plural of campus campuses?). Don't try to go from on campus to the other via the shortest way passing the consulate in a group of six long haired students without valid identity cards shortly after the USA became victim of a terrorists attack. Not funny.
Fun
The How To Write Unmaintainable Code will ensure, that you can't be fired, since nobody can maintain your work.
eye catcher
And finally something Debian specific: The eye catcher project made some progress. Shortly after the mention in the Debian Weekly News and an announcement (in which I set a broken reply-to), the mailing list has 13 subscribers and we created a first prototype.
The prototype works... somehow... but it's far from being perfect. Most of the time I spend working around missing features of magicpoint. It has no real includes, so I use m4 to do some includes before running the presentation. I has no "run in an loop until I press a key" mode, so it is run in a while-true-endless loop. You need to end it with <ctrl>+<c>, so it won't clean up. The presentation is called again and again, so it flickers a bit between the end and the restart of the presentation.
Yes, I know what you thinking: Why didn't you used OpenOffice.org for it? You wouldn't have any of those problems! Although OpenOffice.org documents are basically just some xml files, it seems not be easy (for me) to track changes and work in a community on a document. Magicpoint slides are text files, you can put them in a cvs repository, and the current design allows a translator to just create an additional directory, translate some text files (without any layout entities), and run it at an exhibition in his own land in his own country without knowing anything about magicpoint.
However: If you know a better way to do this or knew a solution for any of the problems, feel free to join us, or please send me at least a mail. Thanks.
Thanks.
Thanks for reading this far, and thanks to Andreas, Jörg and Gerfried for giving me some advice in blogging and creating my hackergotchi, and thank you Mako for all your nice blog entries.
postet at 04:32 into [Debian] permanent link
Sat, 01 Jan 2005
Neujahrsspaziergang. Man sollte jedach, vorher einen Blick auf den Weg werfen, dem man folgen möchte. Achja, und man sollte seine Karte nicht vergessen. Und es ist auch keine gute Idee, sich von der Dunkelheit überraschen zu lassen. Und: Man sollte vorher kontrollieren, ob die Batterie der kleinen Mini-Taschenlampe, die man immer am Schlüsselbund trägt, noch genug Strom liefert.
Aber ansonsten ist es eine nette Tradition.
postet at 18:37 into [private] permanent link
Tue, 28 Dec 2004
... hat es das letzte mal gedauert meinen Personalausweis verlängern zu lassen.
Dabei hatte ich damals erfreut festgestellt, dass ich im Internet nicht nur Informationen fand, was ich alles mitbringen muss, sondern auch Hinweise, wann am besten vorbeikommt, weil wenig los ist. Ich bin damals aber auch zu dem Schluss gekommen, dass derjenige, der für die Website meiner Heimatstadt zuständig ist, seine eigenen Tipps nicht befolgt, sonst wüsste er, dass sie nicht stimmen.
Ich rechnete also mit dem schlimmsten, da es auf der Website meiner Wahlheimat keine "besuchen sie uns am besten um..." Hinweise gibt, und ich nicht nur eine einfache Verlängerung brauchte, sondern meinen alten Ausweis auch noch verloren hatte UND einen vorläufigen Personalausweis brauchte.
Es klappte erstaunlich gut. Zwar war mehr los, als ich vermutet hatte, aber es dauerte keine Stunde, und ich hatte meinen vorläufigen Personalausweis (Kostenpunkt: 13 Euro), und meine endgültigen Ausweis bekomme ich auch recht zügig Mitte Januar. Also mal ein Lob an die städtische Verwaltung, die in den letzten Jahren anscheinend wirklich Fortschritte gemacht hat.
Anderseits war es überraschend einfach: Mit einem mehr als 5 Jahre abgelaufenen Reisepass, dessen Bild mir überhaupt nicht mehr ähnlich sieht, bin ich in Besitz eines gültigen Personalausweises gekommen, dessen Bild mit wirklich ähnelt. Wenn ich nun mal meinen Reisepass verlieren sollte, kann das dann jeder genauso einfach einen Personalausweis auf meinen Namen bekommen, wie ich?
postet at 09:57 into [other] permanent link
Oh, I never realized before, that I have never been in the south: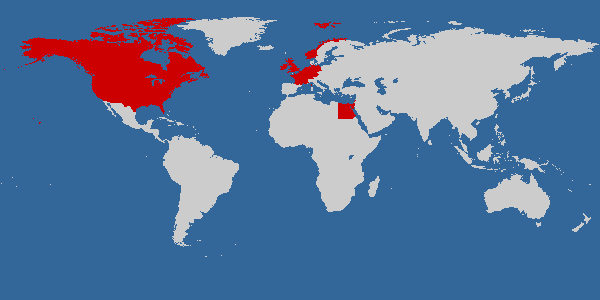 create your own visited countries map
postet at 09:41 into [Debian] permanent link
Sun, 26 Dec 2004
Und da es einem nicht gut bekommt, das, was man mag, im Überfluss zu haben, mach ich relativ selten welchen. Eigentlich nur, wenn ich irgendwohin eingeladen werde und etwas mitbringen soll. Dann aber gleich richtig viel, so dass es noch für eine Woche reicht. Mjam, mjam.
Und bei aller Vorliebe für Freie Software, Open Source und Community-Projekte: Nein, ich werde mein geheimes Nudelsalatrezept nicht veröffentlichen!
postet at 05:57 into [private] permanent link