You are here:
Thu, 05 May 2011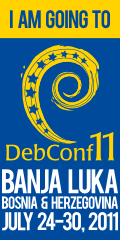 PS: Other nice banners available in the DebConf WIki
postet at 10:03 into [Debian/events/DebConf11] permanent link
Fri, 01 Apr 2011
I'm sure you already heard the news about the new joined Canterbury Distribution, and are eager about details.
While our teams are struggling to integrate all the existing infrastructure, it's my pleasure to announce that the first pieces of the collaboration are already available for our users.
As a first measurement, a common Canterbury Package Manager, called cant will be made available in all distributions. It is already available for the distribution formerly known as Archlinux, and with the next mirror push will also be available for those used to run Debian.
You'll be pleased to know, that the command line syntax isn't much of a change, you can still run cant search, cant install or cant remove, but future version will also introduce all the features known from the other distributions.
Stay tuned for further updates of Canterbury Linux!
postet at 15:50 into [Debian] permanent link
Fri, 25 Mar 2011
If you are wondering, how we will manage to have the DebCamp preceding DebConf 11 in 2009, it's quite easy: Each attendee will find a time machine in his conference back.
By the way: To make that happen, the DebConf orga team is looking for help in fund raising. Please consider helping us, or we will have to cancel the time machines and fall back to the boring DebCamp directly preceding DebConf solution.
postet at 14:48 into [Debian/events/DebConf11] permanent link
Wed, 16 Mar 2011
I've just been told, that the video of the Linux New Media Award Ceremony (you might remember that Debian won in two categories) is now available online.
Update: To watch that video without a proprietary plugin, you can download the video and watch with xine or some other free media player. Thanks to Rhonda for the hint!
My (German) interview with RadioTux is also available online.
postet at 14:44 into [Debian/events/cebit-2011] permanent link
Tue, 08 Mar 2011
Someone asked me during CeBIT for official packages of mendeley. I didn't knew much about it at that time, but mentioned it in my report on the debian-project mailing list.
It appears, that mendeley won't be packaged anytime soon, however Charles Plessy and others commented on that and mentioned some similar tools.
As I don't have any contact data for the visitor, who asked me about it, the best thing I can do for now is mention it here, so he might notice it and read the comments on the list.
postet at 22:23 into [Debian/events/cebit-2011] permanent link