Thu, 05 May 2011
By the way: For DebConf attendees from Germany (or passing through Germany) might be interesting, that you can currently book the night train from Munich to Zagreb with a special price (called Spar Night or something like that); quite cheap: It's cheaper for Meike and me in a double cabin of that train, than to fly for one of us. As far as I know it is a limited offer, to book fast while you can!
Apparently you can't book that train via the web interface, but you can buy it in their offices and via phone.
Oh, an it seems that the train on the 22nd of July there and on the 31st back might become a Debian train. Seems there are already five of us taking that one ;)
Update: Fixed a typo: DebConf is taking place in July, not in June.
postet at 12:37 into [Debian/events/DebConf11] permanent link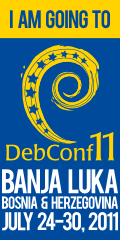 PS: Other nice banners available in the DebConf WIki
postet at 10:03 into [Debian/events/DebConf11] permanent link
Fri, 25 Mar 2011
If you are wondering, how we will manage to have the DebCamp preceding DebConf 11 in 2009, it's quite easy: Each attendee will find a time machine in his conference back.
By the way: To make that happen, the DebConf orga team is looking for help in fund raising. Please consider helping us, or we will have to cancel the time machines and fall back to the boring DebCamp directly preceding DebConf solution.
postet at 14:48 into [Debian/events/DebConf11] permanent link
Wed, 16 Mar 2011
I've just been told, that the video of the Linux New Media Award Ceremony (you might remember that Debian won in two categories) is now available online.
Update: To watch that video without a proprietary plugin, you can download the video and watch with xine or some other free media player. Thanks to Rhonda for the hint!
My (German) interview with RadioTux is also available online.
postet at 14:44 into [Debian/events/cebit-2011] permanent link
Tue, 08 Mar 2011
Someone asked me during CeBIT for official packages of mendeley. I didn't knew much about it at that time, but mentioned it in my report on the debian-project mailing list.
It appears, that mendeley won't be packaged anytime soon, however Charles Plessy and others commented on that and mentioned some similar tools.
As I don't have any contact data for the visitor, who asked me about it, the best thing I can do for now is mention it here, so he might notice it and read the comments on the list.
postet at 22:23 into [Debian/events/cebit-2011] permanent link