Fri, 04 Mar 2011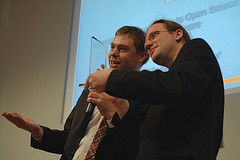 I guess it's time to renew my Fellowship now :)
Picture taken by Andre McMillan licensed CC by 2.0.
postet at 22:14 into [Debian/events/cebit-2011] permanent link
Tue, 03 Aug 2010
For those of us, who can't attend this years Debian Conference might be interesting, that thanks to valesio you can also participate via http://debianart.org/live/.
You need either a HTML5 capable browser or Java.
Also many thanks to the video team for the very nice streams!
postet at 09:20 into [Debian/events/DebConf10] permanent link
Thu, 10 Jun 2010
asked during the opening keynote of the Debian MiniDebconf in Berlin:
Hi, I'm a long Debian user and Developer and would like to help. But I have a Problem: Everything works!
postet at 09:59 into [Debian/events/mini-debconf-berlin-2010] permanent link
Thu, 18 Mar 2010
For those, who couldn't attend my talk about Debian GNU/kFreeBSD, but where interested in the topic: I just got the news, that the video of my talk is now available in Linux magazines video archive.
Other videos from this years CeBIT Open Source Forum are also available.
PS: Oh, and the talk was held in German. If you don't understand that, you can at least take a look at Axel Beckert's slided, which are also available in English.
postet at 14:25 into [Debian/events/cebit-2010] permanent link
Sun, 07 Mar 2010
Getting the special permission, that you don't need to wear a suit on the booth, just to wear one nonetheless, as it is to cold in your cool Debian T-Shirts...
postet at 21:58 into [Debian/events/cebit-2010] permanent link