Mon, 01 Aug 2005
... or how do you explain that map of Europe shown on www.red-hat.com?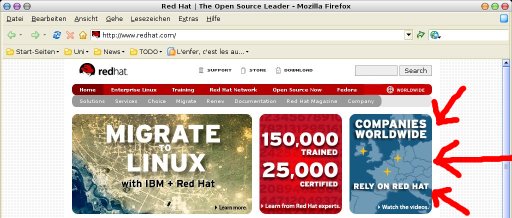 (Click for a full size screenshot.)
Please, dear RedHat people, tell me, that your packages are newer than your maps, or nobody should rely on redhat!
And for those who aren't familiar with the recent history of europe:
The Federal Republic of Germany and the German Democratic Republik reunited 1990
Germanys capital is no longer Bonn
Czechoslovakia split into Slovakia and the Czech Republic
Yugoslavia looks today a bit different, too
Thanks to Frank for the hint and maxx for this blog title.
postet at 16:35 into [Debian] permanent link