Tue, 28 Jun 2005
Yes! Pray for more accounts!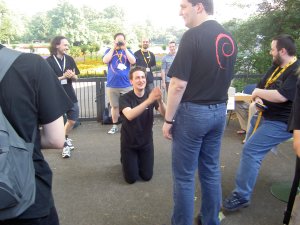 Thanks Uli, for taking those pictures :)
postet at 14:00 into [Debian/events/LinuxTag-2005] permanent link
I know kicking pillars doesn't help - that's why I kicked several boxes and a metal container, too ;)
Beside that, I can blame Joey only for not organizing showers in the exhibition hall for us.
By the way: Does anyone has some good tips how to reduce frustration? Normally I either kick stuff around or go jogging. I'm not allowed the do the last and I better not do the first. I would like to arrive in Hel with at least one workable foot :)
postet at 00:17 into [Debian] permanent link