Wed, 20 Jul 2005
Oh god, what a surprise! I arrived this morning at our preliminary booth at ApacheCon, to find, that alphascorpii left a nice surprise for us there, when she picked our exhibitor passes up yesterday: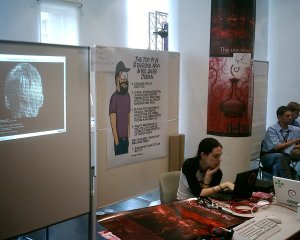 Yes, there is a Mike poster to be seen in the background. No, it is not the one, that got stolen with all the other hardware all the other hardware stuff from last CeBIT. No, alphascorpii made a brand new one, just from the bad quality jpg on Joeys infodrom... Thanks very much!
Uhm... after reading what she was getting through to bring it here, I love her more, than I did ;)
postet at 12:43 into [Debian/events/ApacheCon-2005] permanent link
Arrived from DebConf-5 at Frankfurt Airport: Monday 20:15.
Arrived at home (after a small stop at the university): Monday 23:55.
Fell asleep: Monday 23:56.
Woke up to repack: Tuesday 6:05.
Noticed that I miss my tent: Tuesday 6:15.
Arranged meeting with brother to get a bigger tent: Tuesday 6:20.
Left home to meet brother to get bigger tent: 7:15 (I granted me the luxury of a long shower).
Picked up tent at Darmstadt main station: Tuesday 8:42.
Arrived at university at my new working place: Tuesday 10:09.
Noticed that my boss is missing and I don't know what my new job is all about: Tuesday 10:10.
Finally managed to meet boss, and got informed that I'm now responsible for quite some Desktop Systems running Fedora Core, which may not yet be migrated to Debian: Tuesday 13:30.
Planned time to leave university to Stuttgart: Tuesday 14:00.
Finally left university to travel to Stuttgart for ApacheCon: Tuesday 15:30.
Meet my chauffeurs brother to get some Debian DVDs and a missing keyboard: Tuesday 17:00.
Getting to the camping site in Stuttgart: Tuesday 19:00.
Finished build up the tent, taking dinner and meeting with third member of our booth staff: Tuesday 21:00.
Getting to sleep after a nice chat under the stars: Wednesday 0:05.
Waking up to take a quick shower: Wednesday 6:05.
Arrived at exhibition area to finish build the booth: Wednesday 08:00.
Finished building booth, going to take a breakfast in a nearby cafe: Wednesday 9:00.
Opening of exhibition for visitors: Wednesday 10:00.
Coming back from breakfast to the exhibition area to meet first visitors: Wednesday 10:10.
Yes, ApacheCon has finally started.
postet at 12:19 into [Debian/events/ApacheCon-2005] permanent link