Wed, 16 Mar 2011
I've just been told, that the video of the Linux New Media Award Ceremony (you might remember that Debian won in two categories) is now available online.
Update: To watch that video without a proprietary plugin, you can download the video and watch with xine or some other free media player. Thanks to Rhonda for the hint!
My (German) interview with RadioTux is also available online.
postet at 14:44 into [Debian/events/cebit-2011] permanent link
Tue, 08 Mar 2011
Someone asked me during CeBIT for official packages of mendeley. I didn't knew much about it at that time, but mentioned it in my report on the debian-project mailing list.
It appears, that mendeley won't be packaged anytime soon, however Charles Plessy and others commented on that and mentioned some similar tools.
As I don't have any contact data for the visitor, who asked me about it, the best thing I can do for now is mention it here, so he might notice it and read the comments on the list.
postet at 22:23 into [Debian/events/cebit-2011] permanent link
Fri, 04 Mar 2011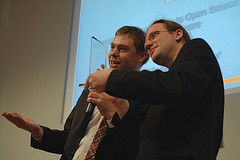 I guess it's time to renew my Fellowship now :)
Picture taken by Andre McMillan licensed CC by 2.0.
postet at 22:14 into [Debian/events/cebit-2011] permanent link