Wed, 01 Oct 2008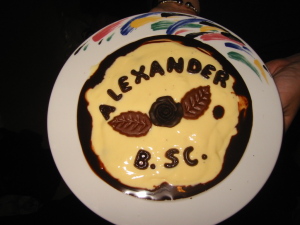 I'm well aware of the irony of becoming a bachelor after getting married.
postet at 11:07 into [Debian/other] permanent link
Tue, 23 Sep 2008
You know, that you did the right thing, when you leave the company building on your last working day, and the first thing comming to your mind is: Free at last!
postet at 20:04 into [Debian/other] permanent link
Thu, 09 Aug 2007
Today is the 9th of August and we've been at a restaurant (well... a self service cafeteria). Nothing fancy so far about it, but it was the first time this month, which makes it kind of special: On the first a new law come into effect in Lower Saxony (and some other parts of Germany) prohibiting smoking in public restaurants (save in closed, separate rooms).
Being a non-smoker it was a nice experience to see how the former smoking area had vanished from the restaurant. Especially, since in that special case you couldn't avoid the smoking zone: To get to the toilette you needed to go through the smoking zone. And where do you bring your tablet back? Right, in the smoking zone.
Nice.
postet at 16:36 into [Debian/other] permanent link
Tue, 29 May 2007
Sven Mueller wrote a nice blog about how important it is to donate blood. To cite him: Please donate blood if you can. If you are uncomfortable with the choice you made on your first donation, check out other options for donations.
I agree wholeheartedly! I heard from a Lady, who can't donate blood herself, since she doesn't feel comfortable with it -- I can understand it, I hate needles and don't like to see my own blood neither. But she wants to help nonetheless, so she volunteered to help during blood drives: She sits by the people donating blood, talks to them, helps them walk around when they still feel dizzy, give out food and drinks, etc.
postet at 18:59 into [Debian/other] permanent link
Sat, 26 May 2007
Yesterday I did something, I should have done a long time ago. I donated blood. I donated blood several times already, especially when I was in army service and a nearby University hospital called for help, when they where running low. I must confess it wasn't only the feel good factor that motivated me back then; you could donate blood during your duty hours, got some money, something to eat a way better than the normal food we got and additionally you where freed from heavy duty for two days. Even after I got out of military service, I went a couple of times to donate blood.
But for some reason -- I don't know why -- I stopped for a couple of years. Well; the funny thing is, that the German red Cross has often these collect blood sessions in a nearby school, which is on my way back to university, but even that didn't worked. I always had something else in mind or planed for that evening.
However, the other day we found a flier of one of those collect blood sessions yesterday evening. And so we went there... and where surprised how many people wanted to donate blood! I can't remember that I ever had to wait to donate blood, but this time they said they had many first time donors, which need special care.
Rest of the story is easy: After some interesting conversation (You know how that works? -- Yes, I look away, and you do the rest and tell me nothing!), Meike and myself had half a liter less, and enjoyed a very nice meal.
As I already said: I don't understand, why I didn't did it for such a long time; nice atmosphere, nice things to eat, nice people taking care of you... I'm going to donate more often. Perhaps you want to try it, too?
postet at 12:35 into [Debian/other] permanent link